News Details
Transformers: Robot Heroes - Springer vs. Starscream
Having suddenly decided that I want a complete set of Robot Heroes, given the cancellation of the expression, I'm trying to fill in the gaps (ie. I had none of them) from the Revenge of the Fallen line. Let's check out Springer vs. Starscream, a partially colorful 2-pack featuring a fan favorite character that may or may not have actually been in the movie - who knows?! I guess Bay claims that 30 or 40 distinct figures were up on that screen, so I'll just have to take his word for it - imagine all the hard working graphics guys who probably made all of those models, and then had to give them 5 seconds of frantic screen time at best. Well, we can enjoy this set in full peace and quiet - click the image for more shots!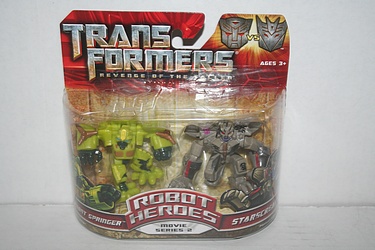 Posted by charlie on July 10th 2010, 08:44 AM
Leave Comment

Share
---
doctorkent
July 10th, 06:46 PM

There is no way Springer was on-screen during this movie.
cparry
July 11th, 08:31 PM

There is probably an 'official list' someplace but I never bothered to look...
---