News Details
San Diego Comic Con 2010 - Hasbro Exclusives
Great Scott, Preserve readers! It seems that our friends at Hasbro have looked favorably upon us all, and have just sent us a crate full of their exciting SDCC 2010 exclusives so that we may all bask in their awesomeness! I'll be hard at work creating individual galleries for each of these pieces starting now, but wanted to post a picture of the show exclusive sets that will make that long line well worth standing in next week!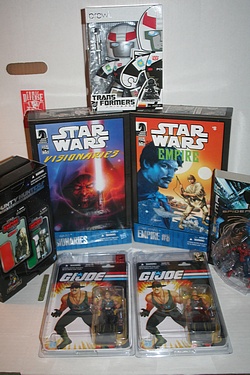 Posted by charlie on July 14th 2010, 06:33 PM
Leave Comment

Share
---
No comments have been posted.
---