News Details
Xtractaurs - Quikfire
Victim of serial misspelling on my part, Quikfire the Nanotyrannus joins the
Xtractaurs
collection at the Preserve. This figure, obviously of the Tyrannosaurs Clan, has a rapid Surge attack that will soon be meaningless when the game goes offline. Which makes one wonder - what is the corporate policy for how long these online components are maintained after a line is so clearly retired? Certainly adds a lot of new considerations to the management of a brand - probably to the detriment of being able to just focus on making cool figures! Well, at least they did manage to sneak some excellent dinos in before calling it a day, so click on the image for more shots of this powerful, clearance priced Tyrannosaurus!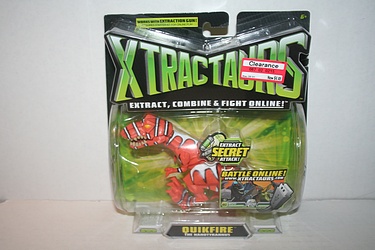 Posted by charlie on July 19th 2010, 10:50 AM
Leave Comment

Share
---
doctorkent
July 19th, 02:37 PM

There is a blurb somewhere on the package that states how long they will maintain the site until. next year, I think.
cparry
July 19th, 08:50 PM

Aha! Good call - seems I should look more carefully at my own pictures!
theWife
July 20th, 09:20 PM

why do they always pull the plug on these internet-based toy lines right as we get into them?
cparry
July 21st, 05:56 AM

Yes it is frustrating - that's why I think I still prefer a classic toy, or classic game system for that matter! You aren't dependent on an external service for it to fully function.
---