News Details
Batman - The Brave and the Bold: Batman vs. Scarecrow
While we've been assured that the Action League expression is still going strong in the
Batman: The Brave and the Bold
line, it does seem pretty tough to find products in the pipeline beyond the current, hard to find wave. This Batman vs. Scarecrow 2-pack is sort of scarce - given that I've only seen it the one time when I picked it up at a New England Target. Much harder to find, apparently, is the Black Lightning vs. Wildcat pack, and I'm not even convinced that Green Lantern vs. Dr. Polaris has seen retail release, though amazon.com periodically claims to have a seller with one available. Keep your eyes peeled for those rare sets, and click the image below for a few more shots and the amusing back story of this semi-rare mini-pack!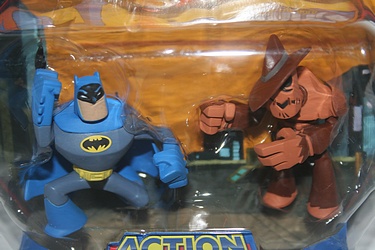 The fear-gas dispensing Scarecrow has a plan to paralyze the city. Batman has a problem with this.
I guess that one was written Friday afternoon before a holiday weekend...though it's actually pretty awesome.
Posted by charlie on July 20th 2010, 07:20 AM
Leave Comment

Share
---
No comments have been posted.
---