News Details
Comics Related - Alan Moore and his New Project
Readers of the Preserve have likely noticed that I've not been providing much in the way of Comic-Con coverage this past week. The reason for that is several fold: all like-minded sites appear to be awash in piles of the same news, I maybe am a little secretly sad that I didn't go, and the convention is so laughably
not
about comics any longer...I think we should all possibly find other events to support (gasp!)
Well, the
New York Times
yesterday had a nice piece on what Alan Moore is up to, so I guess this is my comics related news for the week, and far more related than most anything at said Comic-Con! You know you can't resist the beard - click the image to be taken to the Times and catch up with Moore as he transcends death, being only a perspective illusion of the third dimension.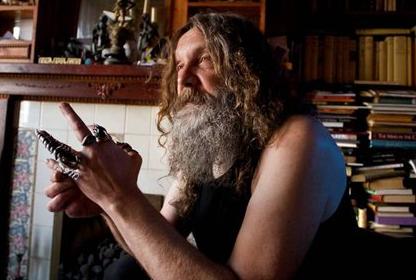 Posted by charlie on July 27th 2010, 07:34 AM
Leave Comment

Share
---
theWife
July 27th, 08:00 AM

Perhaps his power lies in his beard.
cparry
July 27th, 08:02 AM

Yes, along with yesterday's breakfast...

I kid, because I'm jealous - it is a mighty beard indeed!
---