News Details
Transformers Generation 1 - Bluestreak
There sure has been a lot of new product announced over the last week and change - Hasbro and Mattel have assured us that some real wallet-busting times are ahead. In the spirit of all that, I am redoubling my efforts to enjoy what the Preserve already has, and what better way to do that than to continue the journey through
Transformers: Generation 1
. Today let's take a look at Bluestreak!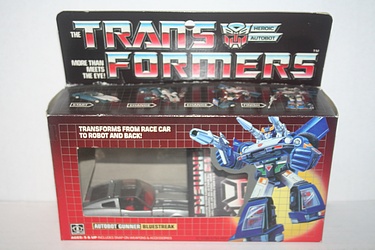 Always a confusing figure as a kid, given that he embodied the small-print warning of character decos being subject to change, not to mention the change rendering his name somewhat off unless taken as an expression and not a color. The checklist, and heck, the box and the character art, all showed him with the blue highlights of the original Takara version, but we ended up with a nice silver Datsun 280ZX. He is, of course, still a fantastic figure! The version I picture seems to be from the 1985 release (based only on the 1985 catalog, though he has no rub sign and the catalog is oversized so I'm thinking the two don't match up), but he was one of the originals to be included in the 1984 launch set. Click the image above for more shots of this classic Autobot!
Posted by charlie on July 29th 2010, 06:55 AM
Leave Comment

Share
---
doctorkent
July 29th, 09:16 PM

When you have movie money in hand, we can go to Japan and buy the original version for $$$$.
cparry
July 29th, 10:11 PM

Oooh, I best get crackin' on that site!
---