News Details
Flash Force 2000 - Rampager Destructo
Check out one of the three carded 'bad guys' from the 1984 (the greatest year!)
Flash Force 2000
line by Matchbox. Known as 'Rampagers' - these guys squared off against the Flash Fighters for control of the....well I guess I better read the comic! Featuring more of that cap-blasting action that made this line not just a boring footnote (nay, an
exciting
footnote!) you can click the image below for more shots of this figure, whose name puts me in mind of a Mexican Luchador.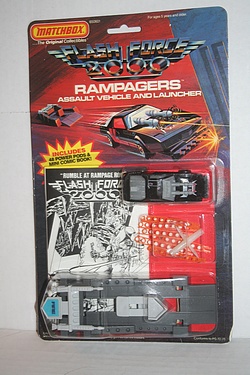 As mentioned before, there's not a lot of packaging variation between the six cars in this line, but at least the Rampager cards are a delightful shade of evil red. Also this card is the only accurate one for the Rampagers, as Destructo (olé!) appears to be the most photogenic and was the star of the painting.
Posted by charlie on August 2nd 2010, 12:08 PM
Leave Comment

Share
---
No comments have been posted.
---