News Details
Batman - The Brave and the Bold: Battle Ready Batman
Images of Mattel's booth from the San Diego Comic Con confirmed that the
Batman: The Brave and the Bold
line was in fact not quite done, but would carry on as Toy Guru
warned us
in February. How is that? Well, as a line consisting 100% of Batman repaints, each with a different weapon or 'feature', possibly being rebranded as 'Total Armor'. They did claim that it is what retailers demand, and if the 20 copies of Crusher Cuffs and Bladewhip Batman at every store I've been to lately are any indication, they were right on as always! So, unless this idea dies on the vine where it belongs, I guess we'll see even more Bats on the shelves...after they clearance or give away or throw out the ones currently clogging the pegs.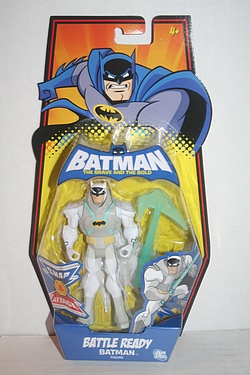 Before that happens, though, there seem to be a few slightly more obscure Batman repaints filtering through Toys R Us (which seems to have the largest ongoing retailer support of this line). The other day, I saw for the first, and so far only, time Battle Ready Batman. Yes it's just another repaint, but the stark white was somehow appealing, and it scored my hard earned bread for it's overpriced self. Click the image above for a few more shots of this entry in the long line of repaints that this line has become!
Posted by charlie on August 3rd 2010, 06:36 AM
Leave Comment

Share
---
doctorkent
August 4th, 10:03 PM

In the future, will kids have Batman vs Batman stories, since all they could buy at retail was Batman?

This is a nice Batman.
cparry
August 5th, 06:14 AM

I can see it now:

"Who do you think will win? Batman or Batman??"
theWife
August 5th, 09:51 AM

"I'm Batman."

"I'm Batman."

"I'm Batman."

http://www.youtube.com/watch?v=-I3cT4ydS2U
---