News Details
Atari 2600 Halo
Making the Internet rounds the past few days is the excellent news about a former Microsoft VP having written a version of Halo for the Atari 2600. Now, that sounds like a Halo I'd be able to actually care about! What with the impending release of the new Halo Reach, ignore all that news and check out the
atariage forum post
by Ed Fries himself describing the design and development of the game. Then check out
the emulator
to see the game itself. Be sure to read his discussion of "Magic Land" - that dude definitely was becoming one with his program. End of Line.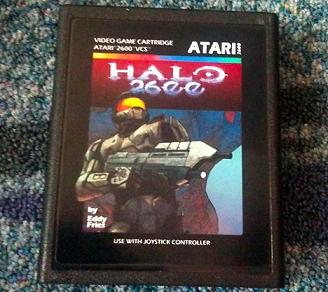 Posted by charlie on August 5th 2010, 09:20 AM
Leave Comment

Share
---
theWife
August 5th, 09:47 AM

I like how the cartridge is complete with fancy art...that always caused the in-game graphics to be rather disappointing for me.
cparry
August 5th, 10:02 AM

Precisely why, with all of these things, I enjoy the packaging as an integral part of the experience.
---