News Details
G.I. Joe: The Pursuit of Cobra - H.I.S.S. Tank
You just can't go wrong with a Cobra H.I.S.S. Tank on a Saturday night. Yes we've seen a lot of incarnations of this ultimate ground assault vehicle over the years, but they've really thrown in a twist in 2010 with the elevation feature. Sure it may not look like much on the coffee table, but that doubling in height on the battle field might make the difference between evil victory and righteous defeat. And now you know!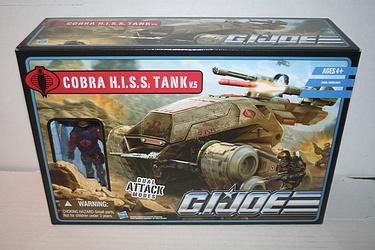 Posted by charlie on August 21st 2010, 08:31 PM
Leave Comment

Share
---
No comments have been posted.
---