News Details
Air Raiders - Twin Lightning
Let's kick off the week with another entry in the small yet mighty
Air Raiders
collection. Today, feast your eyes on an advanced F-1 Spitfire Tactical offensive fighter plane - Twin Lightning!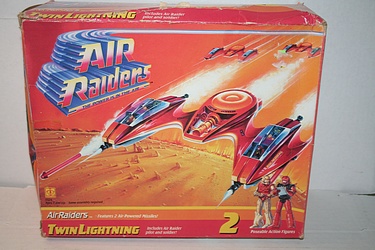 "Twin Lightning always strikes twice."
You just have to enjoy that quote, raising again my point about how much fun the bio cards are in this line. Doctorkent made an excellent point in
the comments
to a previous post, indicating that Blot and Blight are both Transformers names but also are listed as the pilots of the
Wind Seeker
! Gives an interesting glimpse behind the curtain at Hasbro, and it would be fascinating to learn more about the design team behind Air Raiders and how a product rises and falls all in one season. Fodder for the next Q&A, I assure you!
Posted by charlie on August 23rd 2010, 06:59 AM
Leave Comment

Share
---
No comments have been posted.
---