News Details
G.I. Joe - The Pursuit of Cobra: Mechs
When I first saw the freshly stocked shelves of Target, right after their late summer reset when
Pursuit of Cobra
product was plentiful, I looked at the Mechs and knew that I liked them. They reminded me, in a very nice way, of
Exo Squad
, and to see them waiting patiently on the shelf was just so enticing. I waited, of course, as I do, and they promptly vanished. Thinking then that maybe they were getting popular and would be hard to track down, when several weeks later a single copy of each new suit surfaced again at the local Target, I certainly went for it.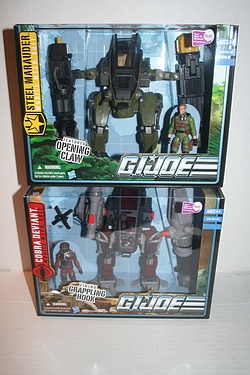 Of additional temptation was learning that the arms are removable (as indicated in the
Cobra Deviant
packaging layout itself) and better still, that you can join one arm to the next, making absurdly awesome Mech creations on the battlefield! Not only does this secure the rightness of the purchase, but enters dangerous ground where multiples would only add to the cool factor. Well, I may be able to keep a lid on that, but am delighted to add these two new sets to the Preserve, and look forward to opening them (gasp!) soon!
Big thanks are due to friend of the Preserve Rudger who first schooled us about the awesomeness of the Mech arms, and who provided this picture of his Steel Marauder having utterly vanquished a Cobra Deviant, and stolen both arms!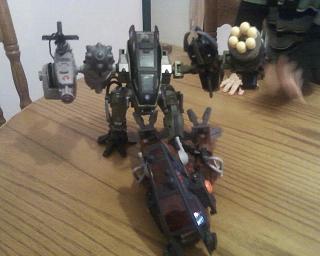 Posted by charlie on August 25th 2010, 07:43 AM
Leave Comment

Share
---
doctorkent
August 26th, 08:41 PM

Did you know that these were retooled from Sigma Six? If they do a Dragonhawk, I might have to get one.
cparry
August 26th, 08:56 PM

I managed to miss about the entire Sigma Six line, as it fell within the dark-ages of my collecting career. Hasbro has tricked me again with the repaints! One of my many flaws has been exposed!
---