News Details
Callgrim Joins the Preserve
I spend a lot of time, effort and money on the name brand, major toy producer's goods, which can be found in every corner drug store. While I will still always cherish the vintage collection of the Preserve, I feel that after several years of keeping up with the onslaught of new product, which is itself already featured far and wide across the Internet, I'm looking to the smaller producers for more thoughtful, creative, and smaller run work.
Enter
Callgrim
- a line using the
Glyos
joint system which just begs for amazing back stories and scenarios to be created around lush photo essays of their sharp, detailed figures. I've added three of their number to
the archives
so far, though my long time spent in service of archival cataloging has left my artistic muscle a little underdeveloped, so it will be some time until I graduate into the more creative photos that unique, attractive (and opened!) product will allow. For now, click the image below to check out the great Dominus figure!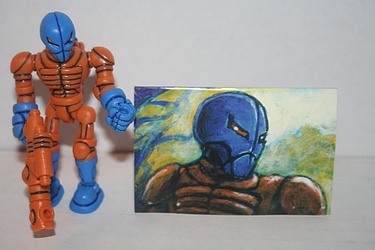 Posted by charlie on August 27th 2010, 07:19 AM
Leave Comment

Share
---
No comments have been posted.
---