News Details
G.I. Joe - The Pursuit of Cobra: Wolf Hound with Whiteout
One of the reasons I have such a pathological inability to discard the packaging for toys, on the rare occasions when I do open them, is that historically it has been such a rich, vibrant part of the overall experience that doing so seems, to me, to detract from the object itself. One need only look at the gorgeous box art for the Air Raiders line or the first few waves of Transformers for all the examples you could want.
In recent years, though, and sadly in particular with the G.I. Joe line, things had changed a little. For a line that itself had awe-inspiring art in the '80s, there seemed to be a flaw in the marketing methodology now days in the 2000s. It may seem a small detail, but in particular in the Modern Era line, and then somewhat with the Rise of Cobra line, vehicles were almost always packaged with a clear window, the art being tucked away on the side flaps or as an accent to the window itself. We did see with Rise of Cobra a shift back to the fully painted boxes, at least for Bravo and Echo class vehicles. Back in the Modern era line, two of the Target Exclusive jets (that I have yet to post...2 years late!) also switched back to the full-art box, to some amount of fanfare from like-minded collectors.
That was all a very round about way of saying - aren't the boxes in the Pursuit of Cobra line great?! Well, I think they are, and here is the Wolf Hound for you to see today. It should be available on store shelves near you, though this line is selling well so, somewhat surprisingly, it's hard to be sure! Click the image for more angles of this still-unopened vehicle, and for the bio of Whiteout, figure #1019, cold weather specialist extraordinaire!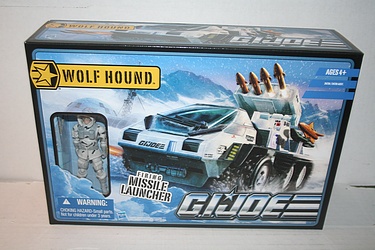 Posted by charlie on August 28th 2010, 05:27 PM
Leave Comment

Share
---
No comments have been posted.
---