News Details
G.I. Joe Rise of Cobra PIT Playset - $20 at TRU!
I admit it - I was a very poor supporter of the
G.I. Joe movie line
. Here on this site one of the things that I like to talk about above all else is how great the '80s were, in particular due to the sheer lunacy of the toys, measured primarily through the size and scale of the vehicles and playsets. Companies these days can't stop beating the drum of how items like that are just no longer feasible - they take up too much shelf space, the costs are much higher now, they think buying habits have changed and there isn't enough market support....yet Hasbro took a chance.
Hasbro took a chance and made their absurdly large
PIT playset
as the keystone of their Rise of Cobra line. And what did I do? I took lots of pictures of it at Toy Fair; I talked to the reps excitedly about what a great sea change it was in the modern action figure industry; I waited excitedly to see it on store shelves; then I looked with peace and satisfaction at the $100 price tag, and walked on by. I was part of the problem, not part of the solution! That's why, as happy as I am to have just scored this massive playset from toysrus.com for $20 ($30 shipped) it is a little bitter-sweet, and I had to confess my failing here on the Preserve. Sure I've just saved 80% on this massive set, but by waiting I contributed to the lower sales numbers that resulted in this clearance price, and may have tanked the chance for such sets in the future.
Phew, glad I got that all off my chest! Let's hope that the numbers were still good enough for this set that Hasbro doesn't lose all hope and interest, and that we can see at least one more large set every couple years - the Star Wars ones seem to be working out so far with that massive AT-AT hitting shelves right now, even though the Big Falcon from a few years back did see similar clearance prices so there is definitely not a perfectly linear relation. As such, go take advantage of this
fantastic deal
at toysrus.com today, if you've been holding off on buying this fun set, complete with
mini-cardboard-ping-pong table
! Thanks to Adam at
16bit.com
for this killer tip!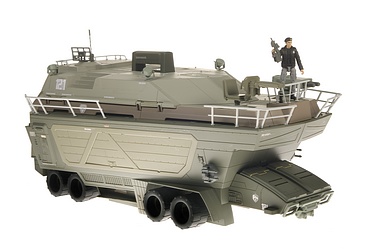 Posted by charlie on September 2nd 2010, 06:48 AM
Leave Comment

Share
---
No comments have been posted.
---