News Details
Transformers Animated: Target Exclusive 2-Packs
It's hard to believe that I picked these Target Exclusive 2-packs up over a year ago, but it's true! Target came out in support of the fun Transformers: Animated line with several store exclusives, among them the Shockwave vs. Bumblebee and Sunstorm vs. Ratchet sets!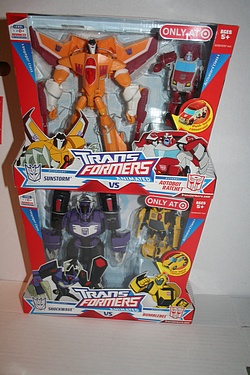 These sets pair a Voyager class figure with one of the basic Activators, which really highlights the scale and power difference between the Autobots and Decepticons that the show displayed. In a panel discussion with Hasbro reps way back at Botcon 2007, they talked about making the Decepticons a real threat again, and something that wouldn't just be an everyday occurrence for the Autobots to fight. In most all previous shows, they were fairly evenly matched and would do constant battle in every episode, but Animated gave us a world where the Autobots were simply outgunned and overpowered by their foes, making the battles more intense and more real. In these sets, you really get that feeling! Click the image above for the index view of Target's offerings.
Posted by charlie on September 5th 2010, 03:42 PM
Leave Comment

Share
---
No comments have been posted.
---