News Details
Transformers - Revenge of the Fallen: Robot Heroes
In celebration of Daughter of Liberty, Michael Bay, not yet
killing anyone
on the set of the hotly anticipated train-wreck Transformers 3, I'm featuring today a pile of Robot Heroes from the
recent movie toy line
. Hasbro having confirmed for us that the Heroes expression doesn't match their plans with the Transformers brand going forward, I decided that collecting even the gold-toothed and smash-faced Bay-Bots, which get even more confusing at this scale, was an OK thing to do.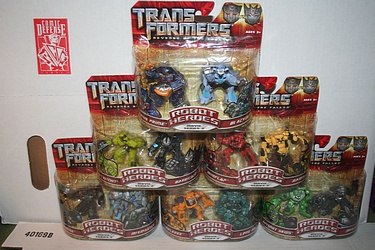 That big stack of them was found recently at TJ Maxx, where the remaining stock appears to have filtered. This is nice for the $4.99 price tag, as well as for those late to the 'party' like myself now that these figures have finally been shuffled out of the Targets and WalMarts of the world, by hook or crook. I figure I'll feature a really special one, so let's take a look at the aforementioned offensive minstrel bot, Skids and his hopeless battle against Megatron.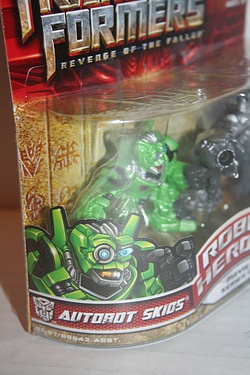 Actually, maybe he won - or maybe they didn't even fight - I really couldn't tell you and don't remember. Either way, Hasbro did their best with this character, and turned in a sculpt that is as accurate as possible to the mandate of Genius Visionary Michael Bay. I hope that the artist who drew the short straw and had to add 'gold-toothed ghetto robot' to his resume was thrown a bone and got to work on the far-more respectable
Generations
line which is currently hitting stores. Speaking of which - I managed to find Darkmount and Megatron at the newly opened Toys 'R Us Express, which will be posted to the Preserve shortly!
Posted by charlie on September 8th 2010, 06:16 AM
Leave Comment

Share
---
No comments have been posted.
---