News Details
G.I. Joe Modern Era - Mighty Muggs
Remember the 2008 / 2009 Hasbro toy seasons? Where they fell even more head-first into the rut of applying the same expressions across nearly all of their brands, sometimes to a fault? Where the 'urban vinyl' Mighty Muggs, which had been well received in the Star Wars universe, showed up with Transformers and G.I. Joe with mixed success? Well, sales numbers aside, I assume you do remember that, and here are Duke and Snake Eyes from the
Modern Era
collection, fresh from a way-late clearance case that showed up at the local TJ Maxx!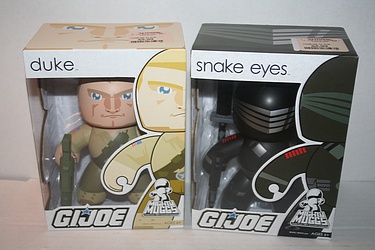 This expression saw only 6 figures, with Destro and the Baroness making up the truncated second wave. It was when I saw
press shots
of the Baroness that I decided I wouldn't pursue these figures, but always in a rush to prove me wrong, life has shown that to be the most collectible of them all and I've never once seen an example in person. Girl figures - always - even in this expression it seems! Well, if you happen to see a Baroness at your local TJ Maxx, you could do worse than picking it up, if only for a struggling fellow Joe collector who decided maybe it's not so bad to add these six style-footnotes to their collection!
Posted by charlie on September 9th 2010, 10:01 AM
Leave Comment

Share
---
No comments have been posted.
---