News Details
Army Gear - Grenade / Bunker
Holy Toledo Preserve fans, let's go ahead and add a new toy line to the archives on this fine Friday! From 1988 comes a short line of war toys that (remember the decade) Transform!
Lewis Galoob
brought the
Army Gear
line to shelves, and like anything made after 1984 they featured 'Two Worlds of Battle Action'! We'll kick off coverage of this line with the Grenade / Bunker set, ready to blast your good times into high gear!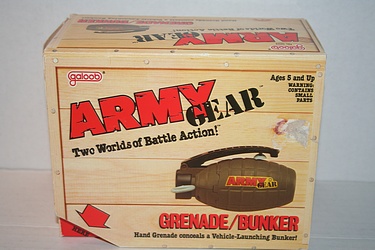 I think that originally I didn't have any of this series, as my Dad tended to avoid the straight up military themed toys, but I managed to pick up a box of these from eBay several years ago. And, as usual, I'm just getting around to posting them! It is turning out that this line is moderately rare, and in three years of watching for them there are several of the items in the line that I've only once seen come up boxed! Click the image above for some details of the Grenade set, and watch for some more entries to this line soon.
Posted by charlie on September 10th 2010, 02:24 AM
Leave Comment

Share
---
doctorkent
September 10th, 09:50 AM

Yes, rare because Galoob was never really an action-figure type company. Much like my beloved RBT being released by CBS/Ideal Toys, it seems like assortments got released regionally or in short supply.

Huh, just a quick search and I am unsure what the complete line would be. Did you see there is an Uzi for this line?
cparry
September 10th, 09:58 AM

Excellent point about the rarity which is introduced when non-toy companies try their hand in the business.

I had also noticed that there is not a very clear picture of just how many sets were eventually included in this line at the end of the day - of course one of the primary reasons I'm excited to tackle the project! Several years ago one eBay seller put up the M-16, Machete and I believe the Uzi - boxed - and I've not seen them since. Well worth the price had I known then what I know now!
Ben
September 10th, 12:57 PM

Good to see someone else appreciates this line! Ironically, my sister just picked up the searchlight, the machete, and a boxed grenade at a flea market for me yesterday! She got the lot for $7.

I honestly believe that the walkie talkie and the binoculars were never released in the United States, seeing as how virtually every example I've seen has come from elsewhere in the world. Ironically, even though the transforming play gear itself is the cooler aspect of the line, the badges and medals that transform into small vehicles are a pain the ass to find! I'm pretty sure they're tougher to get. There's also a mail-away ammo case that I've never, ever seen.
cparry
September 11th, 10:04 PM

Hi Ben - excellent flea market haul by your sister! After the comment by doctorkent about the Uzi I noticed in the picture for it online that it appears to have the Gigi Italian release stamp on the box, so we're looking at some serious overseas-only products...always tough! Other than the M-16 sounds like you scored most of the cool domestic ones for a cool $7.

Interestingly enough, at about the same time several years ago that I picked up a box of excellent examples of this line from eBay, I also won auctions for several of the rare 'medals' that you mentioned - those will be posted here soon also! I've only seen them once (actually recently) since those auctions I initially won.
doctorkent
September 11th, 10:52 PM

I found my info on the second series here: In Italian, so run it through the BabelFish first! I'm curious about the mailaway, Ben. Do you have a link to it?
cparry
September 12th, 07:00 AM

John fantastico! Ora abbiamo certa prova solida della foto della portata di questa linea. Otterrò le poche medaglie che ho nella Preserve inviata presto!
Ben
September 13th, 08:57 AM

The mail away was a little slip of paper tucked into the boxes of one of the pieces I have. I'll see if I can track it down and scan it in.

I've had moderate success at flea markets over the last couple of years because no one really knows a darned thing about the line, and most dealers who sell them are selling them as military-themed role-play accessories, not miniature vehicles and playsets.
cparry
September 13th, 09:06 AM

And here I was convincing myself that flea markets and yard sales couldn't possibly still bear interesting fruit, at this late hour of the game. I appreciate the encouraging news!

I realize that a number of the Army Gear pieces I have, including the pictured Grenade, are still sealed. While I have a particular aversion to opening things that have made it this many years, it seems a great opportunity to investigate that mail-away with just a little harmless slit of the tape!
Ben
September 13th, 10:53 AM

By the way, I have two M-16s. Unbeknownst to me, my family bid on a lot that included the M-16 among with other pieces from the line as a Christmas gift. About a week later, I found a boxed M-16 at a flea market for $10. However, that example, while unused, was for some reason missing the figures, the tank, and some of the random small accessories that came with it. Thankfully, those were in the lot from eBay.
cparry
September 13th, 11:13 AM

Wow - was the M-16 still sealed and missing things? Maybe quality control had something to do with the failure of this line as well! Super cool that you have two of that rare piece in your collection.
---