News Details
Army Gear - Air Wings / A-10 Fighter
On the heels of the
Army Gear
Grenade / Bunker, and inspired by the comments of Preserve reader Ben, I dug out the set of medals that are in the archives and started snapping the ol' pictures! Here is the first of the Combat Medals / Assault Vehicles - the Air Wings / A-10 Fighter!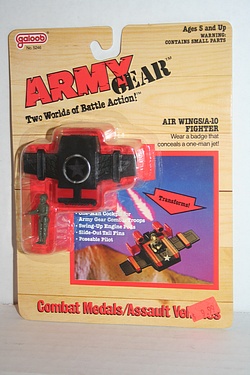 Interestingly, the four medals that are in the Preserve collection do not have the 'Gigi' logo on the package, which suggests that they were actually released domestically! All evidence so far has indicated that these were released only in Italy, but now the plot thickens. Click the image above for more details on this hard to find set.
Posted by charlie on September 13th 2010, 08:59 PM
Leave Comment

Share
---
No comments have been posted.
---