News Details
Army Gear - Combat Ribbon / M-4 Tank
Next up in our parade of little-seen
Army Gear
Combat Medals is the Combat Ribbon / M-4 Tank set! This plastic recreation of a mark of valor transforms into a mini tank that even holds one of the articulated Army Gear soldiers! Interestingly the card is mis-printed, and still displays the marketing copy for the Jet, saying "Wear a badge that conceals a one-man jet!". That lends creedence to the suspicion that these sets were made in limited quantities, near the end of a dying line, probably not far from the prototype stage. Click the image below for more angles of this fantastic set!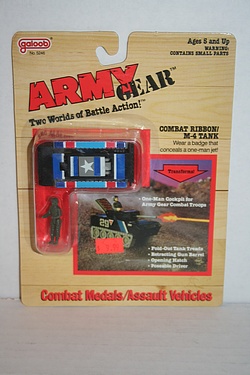 Posted by charlie on September 14th 2010, 04:24 PM
Leave Comment

Share
---
No comments have been posted.
---