News Details
Nintendo Entertainment System - R.C. Pro-Am
I just bet that everyone is expecting me to continue the parade of
Army Gear
Combat Medals, since I'm so delighted to have a handful of them in the Preserve archives. Well, instead it is time for something completely different! Today we're actually going to check out R.C. Pro-Am for the good old Nintendo Entertainment System!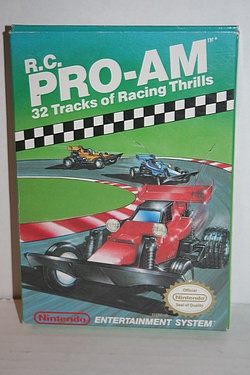 This game was a proud part of my original collection, and while not as heavily played as Bubble Bobble or Contra, was a definite participant in a number of sleep-overs and other marathon gaming sessions.
Developed by Rare and hitting the NES in 1988, it embodied the still-youthful dual format of a racing + combat game, two great tastes, together at last! It was actually one of the first games to allow for racing combat, and the notion of disabling the other competitors with upgrades and add-ons to your vehicle. As the name implies, there was also a twist to this one, putting the player behind the controls of a serious R.C. car instead of personally behind the wheel. This innovative shifted perspective was very well received at the time, and still puts this game in a class beyond vanilla racing titles, surely forgotten these 22 years later. Click the image above for a bunch of product photos, then go get yourself a copy today!
Posted by charlie on September 15th 2010, 07:37 AM
Leave Comment

Share
---
doctorkent
September 15th, 08:10 PM

A great game! Rare really perfected it, IMO, with Cobra Triangle.
cparry
September 16th, 06:20 AM

I admit that it has been years since I've played it. After this trip down memory lane, making the post and reading up on the history a little, it's definitely time to break out the NES!
---