News Details
Lego Brickmaster - Set 20017, Prince of Persia: Dagger Trap
About a week ago I received a very disturbing email from Lego, informing me that the
Brickmaster club
would be coming to an end in 2011! It's unclear exactly what the plan is, but it sounds like the current set-up of getting a unique set every two months, along with the club newsletter, is no longer available for subscription, though those of us already in the program will get our remaining sets. I've been a big proponent of this club, and thought that it was a lot of fun for a great value. Maybe the price of 6 sets a year finally caught up to them, and they would need to charge enough more for the yearly membership that it no longer seems attractive to offer. Whatever may be the case, it was fun while it lasted, and hopefully Lego has a new program waiting in the wings to replace it.
All that said, let's take a look today at the brand new set #20017, the Prince of Persia Dagger Trap!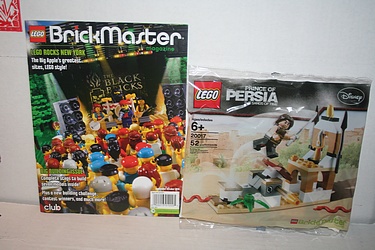 It feels very much like the team that worked on the fantastic Indiana Jones line was able to transfer smoothly over to the Persia expression, and they are doing a really fine job. This set, while ringing in at only 52 pieces, continues that tradition of success with this new line, so be sure to click the image above for a little more info. And no, as usual, I haven't opened it yet. One has to wonder how rare the final sets of this year will be, now that membership is cut off.
Posted by charlie on September 18th 2010, 07:08 AM
Leave Comment

Share
---
No comments have been posted.
---