News Details
Toy Catalogs - 1984 Mattel Wish List
As the Preserve grows and matures, I've turned my gaze to lines and knowledge that extends beyond the original borders of my kingdom. For decades now I've been content simply to rediscover and understand the lines that I collected while growing up, not even fully open to the world of possibility that lay just beyond those boundaries.
While there is plenty of work left to be done even on the 'original collection' here, one of the ways I find myself gaining this greater understanding is by picking up the occasional classic toy catalog and marketing material. For those of you who aren't quite as far gone as I am with regards to this sort of thing, it may surprise you to know that single magazine issues of Playthings from as recently as the beloved '80s typically go for $50-$100 these days, if you can find them at all! Through patience, diligence, and occasional overspending-ence, I've been accumulating a (still very small) collection of these sorts of media for the past year. Well, as with anything in the Preserve, I'm much happier when it sees the digital light of day and can be shared with and experienced by a greater audience than these walls and the disinterested cats.
As such, I've established yet another wing of the Preserve, the
Catalogs
area which is available under the Features tab. I'm still not completely satisfied with the content layout, and with my continued insistence on handheld photos instead of scans (scans are so sterile...and readable...) of the new material, but wanted to get the scant 15 pages of the 1984 Mattel Wish List posted (the greatest year!) anyway. Click the cover below to see the insides of this short but delightful publication, and be sure to check out
Snake Mountain
!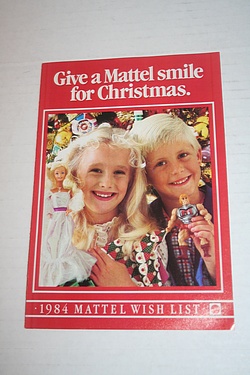 Posted by charlie on September 22nd 2010, 02:42 AM
Leave Comment

Share
---
jackstatic
September 22nd, 01:29 PM

Wow... Brings back memories really. Personally I forgot all about the Hot Wheels stuff. I had the Speed Shifter 500 AND the Freight Yard. I spend alot of time playing with that Freight Yard as a kid, until now I had completely forgotten about it too.
cparry
September 22nd, 01:43 PM

Yeah, the catalog has therefore done it's job some 26 years later! I too was fortunate enough to have that Freight Yard, and might even know where it is in cold storage - I agree that it was great to be reminded of it by this small yet info-packed wish list.
---