News Details
Transformers Generations - Wave 2, the Bad Guys
As 2010 gallops towards its inevitable conclusion, and retailers are already stuffing themselves full to bursting with the inventory of holiday shopping yet to come, the sub-line of the new and ongoing
Transformers MtMtE 2010
line that I'm focusing on collecting, the all-deluxe-all-the-time Generations branch, is ramping up as well. The new product push in August was great fun, and a refreshing change to the bare and drafty pegs that retailers must have been cursing for months, with only Mudflap swinging in the breeze of carts that went hurdling past.
Unfortunately, however, this massive productsplosion that took place nearly two months ago now has largely stayed put, or at least been refreshed with similar product with far too much enthusiasm. As a result, I've found it mighty tricky to track down the more recent waves of any of the sub-lines, but most in particular Generations, which the Internet reports has already appeared in wave 2 and wave 3 form around and about the country. Well, thanks to the great new Toys R Us Express that opened in my small town, and their obviously fresh inventory, I did finally manage to pick up
Darkmount
and
Megatron
, the two supreme bad guys who make up the entirety of wave 2.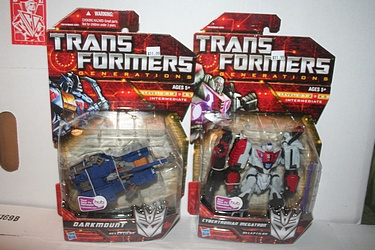 I'm not as up on my comics and such as I should be, but it seemed a bold and pretty awesome move to take a wave with only two slots, and fill them with the bad and badder (you may decide who is who) of Decepticon hard cases. In fact, one of our recent Q&A questions to Hasbro touches on this very topic, so hopefully they'll have something interesting to add! Best of luck finding these figures in the wild - I imagine it is easier in a larger city, and we can all assume will be no trouble at all in a few more weeks, as is so often the case.
Posted by charlie on September 23rd 2010, 08:12 AM
Leave Comment

Share
---
No comments have been posted.
---