News Details
Batman - The Brave and the Bold: Turbo Zapper Blue Beetle
The
Batman: The Brave and the Bold
line continues to slowly and mysteriously eek out new figures here and there, often these days with little to no warning. Sure, maybe I just wasn't paying enough attention, though I increasingly get the feeling that out of the entire country of toy enthusiasts, I'm one of the very few people who still gives a hoot about this sporadic and increasingly confusing line. As such, today let's take a look at the Turbo Zapper Blue Beetle!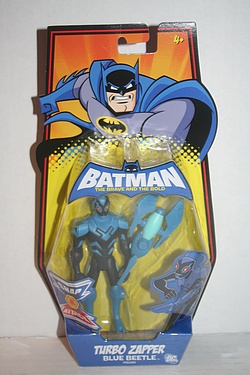 I guess I missed this guy on the carefully tabulated official list of this line...oh wait, there isn't one. That's why I'm working so hard on my checklist here at the Preserve! Click the image above for a few more shots of this (non-Batman!!) figure.
Posted by charlie on September 28th 2010, 02:00 AM
Leave Comment

Share
---
No comments have been posted.
---