News Details
Androidz - by Toy Quest
For a couple of months now, I've been noticing the Androidz line during my rare visits to a Toys R Us store. At first the packaging caught my eye, as it looks like it was ripped from 1986 and transported directly to today's shelves, and that's always a good thing around here! Upon picking up the box, things get even better - there are 24 characters in the 'first wave' of figures, each with stats and rank. There are good guys and bad guys, and two sub-teams within each faction with their own unique team logos and themes. As if this wasn't all wonderfully '80s enough, the very first wave of products in this line features a vehicle for each team, as well as a medium-sized playset, and a large-sized playset, again for each team! Want more? Ok, there is a carrying case (!) and a Toys R Us Exclusive racetrack-type playset. Why racetrack? Well because each of the figures features a die-cast chassis and suspension, and they roll like the wind. Awesome, right!? Right!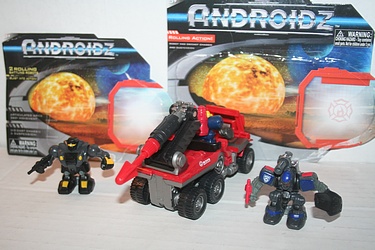 I wasn't at all aware of this product before I found it in the stores, and learned that they have been brought to us by Toy Quest. I wrote to them immediately to learn more about their great product, and they were kind enough to send me the vehicle and figures pictured here for review. I'm putting together galleries of each set and will feature them with addtional comments in the coming days. For now, though, know that the Androidz exist, they are a wonderful, inspired tribute to toys of a simpler (and better) time, and are well worth your time tracking down at your local Toys R Us for the holidays!
Posted by charlie on October 3rd 2010, 06:42 PM
Leave Comment

Share
---
No comments have been posted.
---