News Details
Sega Master System - Golden Axe Warrior
Of all the
Sega Master System
titles in the U.S. cartridge library, a handfull of them are considered pretty rare: Power Strike, Sonic, and the super high priced Buster Douglas Knock-Out Boxing come to mind. Today we're featuring another one of the rarer titles, Golden Axe Warrior! This title is a spin-off from the well known Golden Axe series, where the hero fights through 10 dungeons and eventually fights the fearsome Death Adder - who really gets around!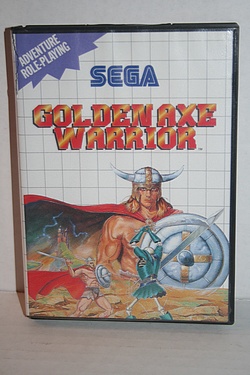 When the game came out, it drew a fair amount of unfavorable press about being a Zelda clone, but honestly it's got some cool unique elements to it, and in the fullness of time has come into its own as a strong and worth while title. Be sure to check out the instruction manual pictures, in particular the pages near the end. The sketches of the enemy monsters are quite interesting, and it feels like they published the concept art right out of the design studio - definitely a step above some of the work that you see in some of the Sega manuals.
Posted by charlie on October 8th 2010, 08:55 AM
Leave Comment

Share
---
No comments have been posted.
---