News Details
Sega Master System - Rocky
Continuing to dig through the substantial yet highly under-represented
Sega Master System
collection here at the Preserve, let's check out a classic sports and movie tie-in title, Rocky!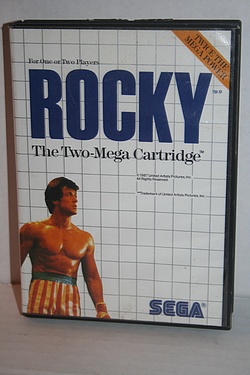 Being that I am from Philly originally, I've always had a soft-spot for this franchise. In school when I was little our home-town-pride-full coach (Mr. B!) would pull out a dilapidated-looking (even then) record player and blast the "Rocky's Workout" theme to which we all had to do a carefully choreographed routine. It was sort of difficult and terrifying at the time, given that I was a fat, lazy little dude, but with the benefit of hindsight it was actually 100% awesome. Thanks Mr. B!
Also, thanks to the wonder of the Internet, you yourself can follow the ongoing adventures of Sly and his power of positive thought over on his quite active
twitter account
. Then, don't forget to check out even more info at
StalloneZone.com
!
Posted by charlie on October 9th 2010, 08:59 AM
Leave Comment

Share
---
No comments have been posted.
---