News Details
Hasbro's HUB Network, and Arctic Destro
In celebration of both the onset of winter with what appears to be an inch of frost outside on my garden this morning, as well as the launch of Hasbro's brand new HUB network at 10am today, here is the
G.I. Joe Pursuit of Cobra
Arctic Destro figure!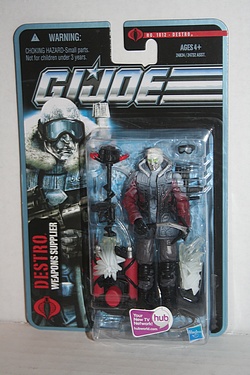 I admit to not having read up on the background of the HUB network very much, but it certainly is breaking new ground in terms of direct corporate marketing. Sure, since the 1980s when children's programming was 'de-regulataed', companies have basically used the cartoons we all fondly remember as sales tools for their cool products. Now, though, Hasbro has their very own channel, effectively cutting out the middle man and any sort of discussions outside the company that would stand between their show ideas and their target audience. The starting lineup of shows looks to be a little thin, with both Transformers and G.I. Joe being delayed until December, and the 2004 Garfield movie being shown at least twice today....but let's try to focus on the positive.
I've taken great pains to say that while I have my issues with the recent live action Transformers movies by revolutionary craftsman Michael Bay, that the tremendous financial success they brought would allow Hasbro to do great things. Well, it seems that they have been more creative than anyone ever would have guessed, and I have to imagine that this network is a direct result of having several 100 million extra in the bank.
So to celebrate, and to wish Hasbro the best with their new venture, check out one of the new Hasbro products that is on shelves now, Arctic Destro from the Pursuit of Cobra line!
Posted by charlie on October 10th 2010, 06:29 AM
Leave Comment

Share
---
No comments have been posted.
---