News Details
Androidz - Sky Bot & Altitude
As I was putting together the
Androidz checklist
, I did my best to divide up the figure 2-packs along the team lines that seemed to be the most likely. Drawing inspiration from either the
Androidz-planet.com
website or obvious faction colors I was able to determine that the line likely consisted of four teams of three packs each.
Well, seems I was wrong about the Sky Bot & Altitude set, which brings the Strategic Defense line up to four sets, and the Melting Point team down to two, completely spoiling the even symmetry of the line! Well, my OCD will just have to deal, as I'm still delighted to be able to feature this 2-Pack, which I see as another solid entry in this fun line of figures. Click the image below for more images of the set, and their individual stats from the pack of the package!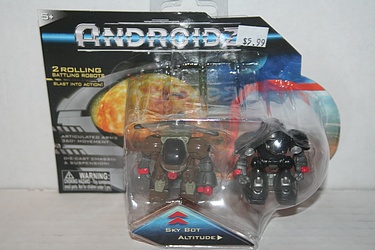 Posted by charlie on October 23rd 2010, 09:41 PM
Leave Comment

Share
---
No comments have been posted.
---