News Details
Batman - The Brave and the Bold: Scuba Batman
In spite of Toy Guru's protestations to the contrary, I think it's pretty clear to everyone who is paying any attention that the
Batman: Brave and the Bold
line is on the way out. Granted, he always couched his language in the safety of 'if retailers support the line' which certainly seems to be diminishing. Target still has a few pegs and a little shelf space consistently dedicated to the products, but with so very little new items in the pipeline it's unclear what they will even put on that shelf space a month from now! That said, and knowing my enjoyment of the 'last wave' of things, let's take a look at another absurd Batman repaint - Scuba Batman!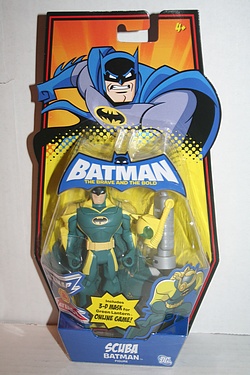 Note the "Includes 3-D Mask for Green Lantern online game!" sticker that is plastered on the front of the bubble. It seemed that all the other Batman figures had this as well, so they're making a last minute marketing push using these guys as a vehicle - given the sales figures, it's probably not a great marketing angle! I found this figure in Plymouth Meeting, PA last weekend, which of course has a much better selection than my small town, though maybe I'll catch a glimpse of those stickers eventually as well. Be sure to click the image above for more shots of this bright, colorful, almost-worth-buying-a-fifteenth-Batman figure!
Posted by charlie on October 26th 2010, 07:35 AM
Leave Comment

Share
---
No comments have been posted.
---