News Details
Tron Legacy - Toys R Us Exclusive Diecast 3-Packs
Ok, I waited long enough that all of the recent deluge of Tron related posts have filtered their way off of the homepage here at the Preserve, so it's time to clutter it back up again! Toys R Us showed some love to the new
Tron Legacy
line, though probably the least amount of love you can have, with their new diecast 3-Packs. Don't get me wrong, I think they look fantastic, and the diecast vehicles are super cool, but they are basically repacks of the single-carded vehicle sets, with a catchy 'hero' and 'villain' tag applied to the two sets.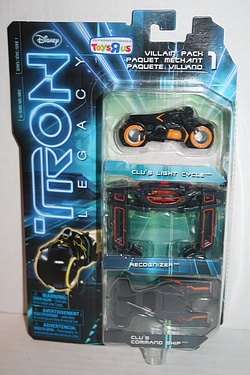 Now, maybe I'm missing the subtle variation on these, and I should have looked more carefully before firing this post off from the hip as I always do. Either way, it's still nice to see this line getting such wide distribution and support, and you should check out these sets when next you find yourself in a TRU, if only to marvel at how the Recognizer is just straining against the slightly-too-small plastic bubble. What a solid, weighty and excellent collectible it is!
Posted by charlie on November 3rd 2010, 08:52 AM
Leave Comment

Share
---
No comments have been posted.
---