News Details
Transformers - Hunt for the Decepticons: Terradive
We're finally starting to see some figures from waves greater than 2 around here, and it is a welcome sight indeed! In keeping with the foreknowledge that we all have that the confusing and disparate lines of 2010 Transformers will soon be merged, in some fashion, allowing them to not follow the 'movie aesthetic' so closely, we can delight in already seeing that wise choice in today's figure - Terradive!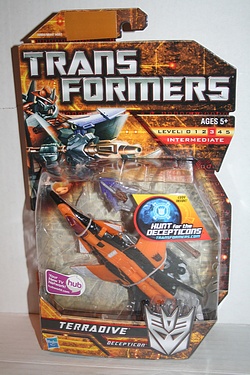 While he's still a little 'kibble-y' in proud live-action movie tradition, something about the figure seems more rooted in the design choices of years gone by - perhaps the team within Hasbro who consistently produces things that I like was finally assigned to this line, to guide the merging, nay the Gestalt, of them all into one super line of awesome. 2011 should prove to be a great year for classic fans, and we can just hope to squeak out as much solid product before the specter of movie 3 looms above the exploding horizon.
Collector Note:
I am always irrationally excited about post-production stickers that have been applied to a retail toy in order to correct some sort of labeling mis-step. Well, Terradive has two! One can be seen in the image just above...yeah, that's almost the right color tan. Be sure to check it out in the full gallery!
Posted by charlie on November 17th 2010, 08:23 AM
Leave Comment

Share
---
doctorkent
November 21st, 11:38 AM

Great figure. I recommend him to all. Finally, I think this is the one who finally claims the Terradive name forevermore.
cparry
November 21st, 11:40 PM

The Platonic Ideal of the character - a place of ultimate honor in the Kent collection.
---