News Details
Transformers Generations - Skullgrin (and Day 16)
I've been on a real Advent kick, which I hope readers have been enjoying as much as I have, but figured that I should sneak in a new non-Lego toy here and there. What better excuse than finally,
finally
tracking down wave 5 of the
Transformers: Generations
line in the local Target. This is the wave that gives us some repaints, but they are great characters and new additions to this line so no one is complaining! Also Hasbro seems to be correcting their high prices across the board, with Star Wars 'Vintage' figures down to $6, and Transformers Hunt and Generations down to about $9 and $9.04 (really??) respectively. Here we have Skullgrin, the seething beast warrior who hides behind a thin veil of intellect.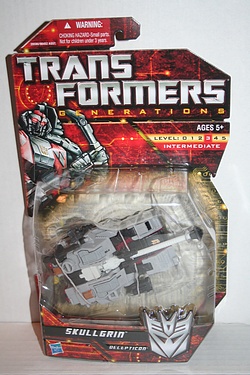 I will have to dig out my G1 boxed figure and get him into the archives soon, because it's been way too many years since I've read that bio and couldn't tell you how similar it is to the olde dayes, but I know there are a number of sites on line that can answer that question for us all! Click the image above to read a little more of his high-strung bio, see his stats, and a few more high res pics of this beautiful piece!
Oh yes, and day 16 of the Lego Advent set gives us a lady friend for Donnie to impress. He's been working out afterall...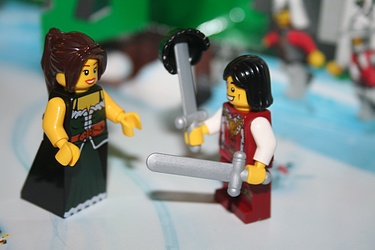 Posted by charlie on December 16th 2010, 08:48 PM
Leave Comment

Share
---
sirshark10
December 18th, 09:03 PM

What are advents anyway? They look cool but what are they?
cparry
December 19th, 01:42 AM

Hi sirshark - good question!

wikipedia teaches us both that: Advent (from the Latin word adventus meaning "coming") is a season observed in many Western Christian churches, a time of expectant waiting and preparation for the celebration of the Nativity of Jesus at Christmas. The progression of the season may be marked with an Advent calendar, a practice introduced by German Lutherans.

Ever since I was little, I've followed the tradition of the Advent Calendar but usually it was just a paper one hung on the fridge, and I would open a new window every morning before school. Depending on the 'version' you would get, you would either get a phrase of a christmas story, or maybe a bible verse, or the super fancy ones had some chocolate behind each window! Then a few years ago I learned that Lego made this awesome one, with a mini Lego set to reveal each day...and the rest is history!
---