News Details
Transformers: Hunt for the Decepticons - Brawl vs. Jolt
Maybe it's just me, but I think that people are sort of at their saturation point with some Transformers store exclusives. The round of Toys R Us Exclusive packs from 2009 didn't seem to move well at all, given that they were largely repacks of existing figures into 'battle packs' with super high price tags, and I think that we are seeing some similar slow sales with the Walmart and Target exclusives that hit the shelves this past fall in support of the Hunt line. Here's one of them!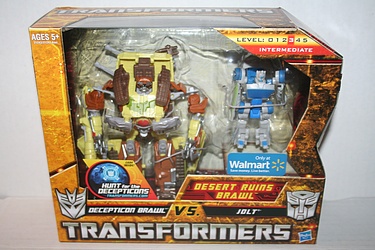 This set and the sister set to it were on shelves for a while, though it does seem that for the most part they have finally moved on. I'll be featuring that other exclusive set soon - if you like this one maybe you can still track it down, so good luck!
Posted by charlie on December 27th 2010, 07:20 PM
Leave Comment

Share
---
No comments have been posted.
---