News Details
Transformers Animated - Atomic Lugnut
The clearance and discount stores are playing an interesting role in the retail toy world these days. Figures that were hard to find or that were assumed to have been relegated to the status of 'unreleased' are popping up more and more frequently at stores like Ross, Marshals and TJ Maxx. Two figures that quickly come to mind, while certainly not previously unreleased but on the harder side of things in terms of availability, were Transformers Animated Voyager figures of Wreck-Gar and Atomic Lugnut.
These guys make up the 6th and final wave of Voyager figures from this line, and in keeping with my standard theory they met with spotty distribution as retailers closed their books on this effort and looked to the new hot products. Then about 4 months ago, piles of these guys started showing up at TJ Maxx and finally everyone could complete their collection, and the eBay prices took a nosedive. I've featured the chatty Junkion before, so I figured it was time to turn the spotlight on his (... fell asleep while writing post! I'll now continue....)
Yes, where were we...ok, yes his wavemate, Atomic Lugnut!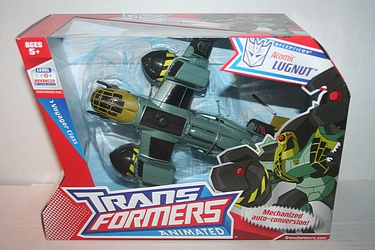 Posted by charlie on January 7th 2011, 04:33 AM
Leave Comment

Share
---
No comments have been posted.
---