News Details
Transformers Generations - Red Alert
The ongoing fan favorite Transformers Generations aka Classics 2.0 line delivered a solid wave 3 a few months ago, starring Soundwave and Red Alert! Well, today let's take a look at the Autobot security expert in his 2010 glory.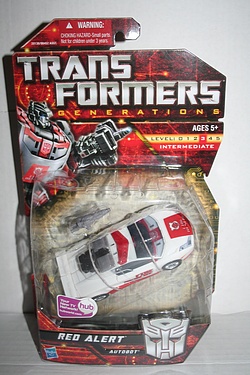 Red Alert keeps his eyes open for anything fishy, and has met with success over and over in keeping the Autobots prepared for upcoming attacks! I mean, the Decepticons don't often have the most stealthy or well thought out plans so as long as someone has half an optic open it's probably a cinch to beat them to the punch. Click the image above for more images and the bio of this diligent Autobot!
Posted by charlie on January 8th 2011, 09:43 PM
Leave Comment

Share
---
No comments have been posted.
---