News Details
Toys 'R' bUst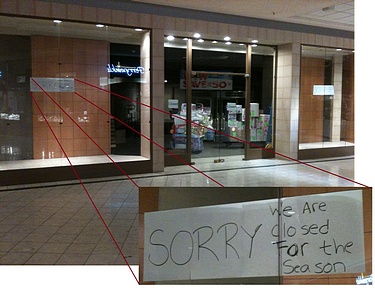 Remember
how happy
I was about the Toys 'R' Us Express that moved into the lousy local mall before the holiday season? Yeah, well, I suspect as was true for many of the TRU Express stores, this one was not long for this world. I had been speaking with the manager about once a week just to see how things were going and to learn more about the noble company that is the last bastion of dedicated national toy sellers around, and he pretty much assured me that sales were not hitting the levels needed to convince corporate to leave it in place. I did my part TRU Overlords! Where was the rest of my lazy town and their stingy wallets?! So, I guess there is some sort of threshold where they would decide to let it run all year, but who knows what that magic number is.
It's a pretty tough job for the employees and manager of the Express locations, because apparently they are shipped what appeared to be out dated and clearance stock, peppered with a few somewhat-current items. Seems like they are barely giving the stores a chance, and also seems like if it's for the holidays, you want to satisfy the yearly demand for the 'hot toys of the season'...not of last season.
Ah well, no sense in worrying about it - just a few thoughts...a postmortem if you will. That store did employ a handful of nice, energetic folks, and I hope they are able to find more work - though I suspect it won't be as cool as working in a toy store!
Posted by charlie on January 12th 2011, 02:44 AM
Leave Comment

Share
---
No comments have been posted.
---