News Details
Transformers - Hunt for the Decepticons - Legends Tuner Skids
I've gone on fairly public record about my...discomfort with the characters Skids and Mudflap in the recent live-action Transformers movies, helmed by the inimitable Michael Bay. Well, I can't fault Hasbro for any of the
unique
traits of those Autobots, and they are holding up their end of the bargain by making great toys of these figures. Here, then, we have the Legends scale Tuner Skids figure, from a recent wave in the
Hunt for the Decepticons
line!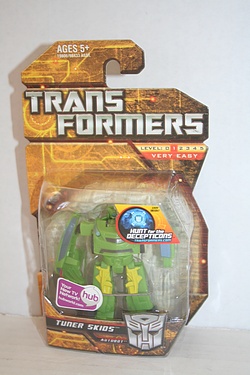 On an additional product note - figure images from the third movie are already leaking all over the Internet, but since I have a thing about using my own pictures or official Hasbro images, I'm taking a wait-for-it approach...
In particular, in case anyone has forgotten - Toy Fair is in less than 2 weeks!! On Saturday the 12th of February I will be attending the annual Hasbro extravaganza, and will have an absolute pile of brand new images to share with everyone, and hopefully even video! So - be sure to visit the preserve that evening once I have a chance to get things posted from the hotel. I'll also try to 'tweet' some images live from the showroom, so we'll all practice that together before hand!
Posted by charlie on February 3rd 2011, 06:20 AM
Leave Comment

Share
---
doctorkent
February 6th, 11:13 AM

One's consumption of Bay original characters is best kept to a small figure.
cparry
February 6th, 12:06 PM

Yeah, I complain about the movies a lot, but try to temper it by saying that Hasbro is doing the best job they can with what they have to work with.

Also, I'm glad that they have made so much money from the films, so they can do things like start their own TV netowrk!
---