News Details
Toy Fair 2011 - The Trip Begins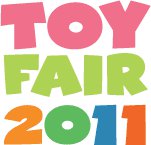 With much fanfare and excitement, we are underway on the fancy wi-fi enabled bus to the Big City. It's always the highlight of the year, going to nyc for days full of the latest and greatest that toy companies from around the world have to offer. Of course, there's the added side benefit of plenty of amazing restaurants and shows along the way - time permitting. I'm so tempted to see the Spiderman Broadway Disaster...
This year, I'm trying to be a little more 'high tech' with the show coverage here at the Preserve. I've got a twiter account set up, which you can reach by clicking the twitter icon at the top of this news feed. I'll be posting images of cool things I see to that feed throughout the show, starting with the Hasbro event tomorrow around 1pm. There are sure to be hundreds of new and cool products in their showroom, so I apologize in advance for violating any twitter etiquette rules by over posting - at laest it will be in controlled bursts of awesome.
I also will be adding video to the coverage this year - in particular, this smartphone thing allows for such complete coverage to be recorded and posted right from the show floor, that I'll upload little minute long clips to youtube, which will be pointed to from my twitter account - I'm sure you all know the drill for this sort of thing by now - but be sure to keep an eye out for those! I also will be shooting some higher-res video which will be edited and posted properly once the show is over and I've returned to the better equipped home workspace.
So - keep an eye on that twitter feed, and of course here as well for constant show updates starting tomorrow afternoon!
Posted by charlie on February 11th 2011, 03:53 PM
Leave Comment

Share
---
No comments have been posted.
---