News Details
Toy Fair 2011 - Mattel: Total Armor Batman
I've been covering the
Batman: The Brave and the Bold
line for ages now - for whatever reason it just really delights me and seemed a fine fit here at the Preserve. It's been clear that the line was in trouble for some time, with retailer support flagging and Toy Guru even having trouble keeping a brave face while discussing the line. Then Preserve regular doctorkent sent along the first images of the Total Armor line from last year's San Diego Comic Con, where we all saw that they were adjusting the name and the assortment a bit so that the line could consist almost entirely of Batman retools....on purpose!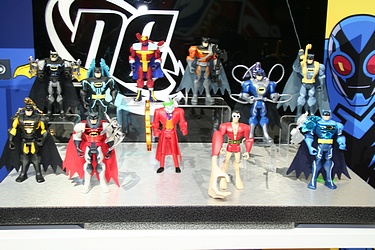 Well, the first and likely only wave of these guys has been in stores for a few months now, and we did get to see those same figures in Mattel's showroom at Toy Fair. Sadly, I admit that I'm not 100% conversant with the first assortment of this line, so haven't even puzzled out if anything new was shown! Well, if you're more an expert than me, feel free to drop a line in the comments, and check out
the gallery
by clicking through the image above.
I will admit that the bright red Joker with 1:1 scale "brass knuckles" is pretty cool looking - have been so close to picking that one up a number of times.
Posted by charlie on February 24th 2011, 07:32 AM
Leave Comment

Share
---
No comments have been posted.
---