News Details
Masters of the Universe Classics - Vikor
Somewhere along the way, I fell massively behind on the Masters of the Universe Classics coverage here at the Preserve. It's not that I stopped liking the line or anything - I think that I just have a negative reaction to a
thing
if and when that
thing
becomes too popular, and it's possible that I sub-consciously fell victim to that reaction with the case of the runaway success of this line. Coverage of it abounds from all corners of the Internet, so I suppose I was directing my efforts elsewhere for a time - though covering Transformers instead hardly seems the refuge of greater obscurity!
Well, be all that as it may, I'm trying to get caught up so today let's take a look at the Club Eternia figure that kicked off the 2011 season this past January - it is Vikor, He-Man of the North!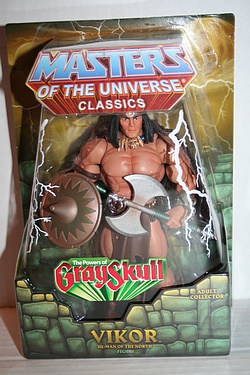 Poe over at
poeghostal.com
, by way of Robert E. Howard, put it elegantly and in such a way that I believe nothing further need be said about this amazing figure:
Know, O Prince, that between the years when the oceans drank the Valley of Gnarl and the founding of Eternos, there was an Age undreamed of, when shining kingdoms lay spread across the world like blue mantles beneath the stars. Hither came Vikor, the He-Man of the North, black-haired, sullen-eyed, axe in hand, a thief, a reaver, a slayer, with gigantic melancholies and gigantic mirth, to tread the jeweled thrones of Eternia beneath his booted feet...
Posted by charlie on March 9th 2011, 01:10 AM
Leave Comment

Share
---
No comments have been posted.
---