News Details
Transformers - Reveal the Shield: Perceptor
One of the most keenly anticipated figures from the Reveal the Shield sub-series of the
Hunt for the Decepticons
line is none other than Autobot Scientist, Peceptor!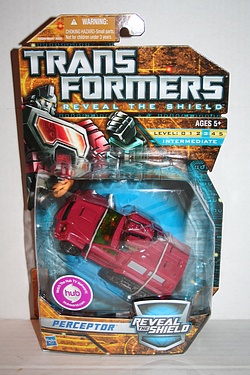 In keeping with the what-is-that effect that kids today probably have towards cassette decks and old-fashioned (?) microscopes, the alternate mode of this heroic warrior is a truck, tank, thing...but at least he looks a fair sight like Perceptor in robot mode! I am about a month late finally getting a hold of this figure, which seems to be the way distribution is working in my neck of the woods at the tail end of this line. Keep an eye out for this figure, as well as the other Reveal the Shield products, since there's a good bet they will end up being pretty scarce as Hasbro winds them down and starts up the 2011 Movie Product Onslaught!
Posted by charlie on March 23rd 2011, 07:57 AM
Leave Comment

Share
---
No comments have been posted.
---