News Details
Tron Legacy - Kevin Flynn's Deluxe Identity Disc
Several days ago we took a look at the Rinzler Identity Disc from 'Series 2' of the dwindling
Spinmaster Tron Legacy
line. While that disc is pretty hard to find, it seems that the Kevin Flynn one tops the demand charts, with eBay as our guide at least. Not too hard to figure out why - probably not a lot of them around (until they hit Ross stores in a month, perhaps) and it's a pretty cool art decision to have the back of the Dude's head as the art. Rare to see that angle, especially on a retail product!
Here then is that disc - I'm amazed that one turned up my small town and that I was able to snag it. I suppose having shifted my schedule back into daily Target runs has something to do with it. Click the image for more angles of what is proving to be a pretty rare piece!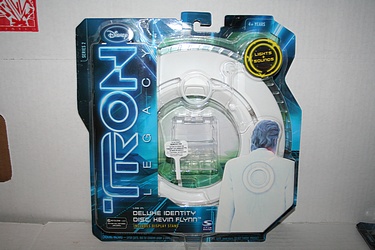 Posted by charlie on April 14th 2011, 07:03 AM
Leave Comment

Share
---
No comments have been posted.
---