News Details
Transformers Generations - Scourge
So I've been looking around for wave 6 of the Transformers: Generations line for what seems like ages, and was all excited and proud of myself for finally tracking down both Scourge and Kup in the past week. Then I stop by Walmart this evening, and see three of each clogging the pegs - never fails! Well, they are still super cool figures, and continue this classy theme that Hasbro did for the late winter / early spring of focusing on characters from the 1986 animated feature film. Click the image below for some more angles of Scourge, the tracker!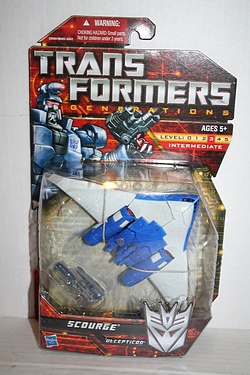 You'll have to buy a lot of duplicates to replicate his huntsmen...the Sweeps!
You want me to gut Ultra Magnus!?
Posted by charlie on April 21st 2011, 08:20 PM
Leave Comment

Share
---
kaars
April 22nd, 07:09 AM

Do you want to believe that from the deluxe series none can be found in toyshop's in Belgium.
cparry
April 22nd, 07:50 AM

Ok - you have a good point. As hard a time as I may have finding these figures, I imagine that it's 100x harder, or simply impossible, for overseas fans!

Want me to pick you up a copy of any? I should start my export business today.
kaars
April 27th, 09:56 AM

the list would be to long, but I am interested
cparry
April 27th, 10:26 AM

Feel free to drop me a line at contact@parrygamepreserve.com - or you can post your want list here in the comments if you like! :-)
---