News Details
Transformers: Generations - Kup
In keeping with the theme of the 1986 animated Transformers film, which simply based on the lack of Autobot Heaven may well be seen as the best of the Transformers films, we'll finish up the week with another figure from that drama. Here we have the 2011 version of Kup! We've all been waiting for a new version of the grizzled, story telling warrior for years, and it was very exciting to see him finally show up in wave 6 of this fan-favorite line. He's looking tough as always, and has the bio to prove it. Click the image for the gallery of this ageless, and ancient, Cybertronian warrior!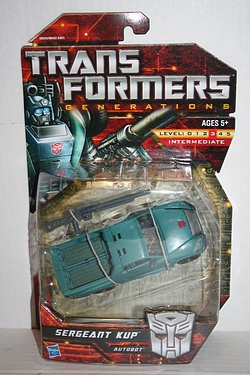 Posted by charlie on April 22nd 2011, 06:22 PM
Leave Comment

Share
---
doctorkent
April 24th, 10:33 AM

I committed to a Kup from the eHobby 3-pack before my TF "hiatus", so I am looking forward to adding this old bastid to my shelves.
cparry
April 25th, 09:02 AM

I didn't know you were on a hiatus - though it makes perfect sense with the DOTM figures only a few weeks away - I know those weren't ringing your bell, in particular.
---