News Details
Tron Legacy - Grid Limo Die Cast
Here's another entry from our recent Series 2 Die Cast discovery in the
Tron Legacy
toy line. It is the Grid Limo! I have a suspicion that this one is short packed to a case, since I found two each of the One Man and Three Man Light Jets on the peg, but only the single Limo. Of course, I guess it's possible that a highly discerning collector (or kid) only picked up one of these rare series 2 vehicles, and it happened to be the other Limo. All of that is just pointless musing, though, so let's get on to the gallery! Click the image below for a few more shots, and the description, of this piece from the winter of this line.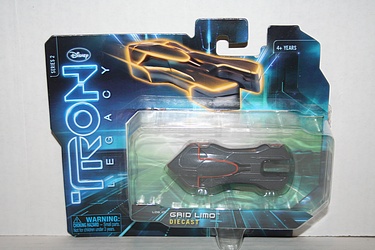 Posted by charlie on May 2nd 2011, 08:03 AM
Leave Comment

Share
---
No comments have been posted.
---