News Details
Tron Legacy - Jarvis
Ok, it would appear that I was not entirely truthful when I said that the
Tron Legacy
coverage was at an end with
Quorra
. I assure you, though, that it was an oversight on my part, rather than a purely malicious deception! Specifically, we can't overlook the series 2 wave-mate to Quorra, and here we have Jarvis!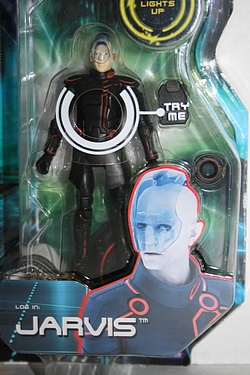 While Castor is pictured in the cross-sell on the cardback here, I've never seen one come up on ebay and certainly haven't seen one in the stores. My suspicion is that he never saw the light of day, but the interesting story is why!? Perhaps a last minute likeness dispute, or perhaps his 'light feature' was melting down or some such. Either way, the series 2 of this line brought the collector only two new figures, but a whole raft of re-cards on wider stock, which was seemingly designed to upset and disturb the plan-o-gram folks at the big box stores.
Speaking of plan-o-grams, my local Target this morning has finally started to undergo their
toy aisle reset
. I was there at 8:04 AM, so the reset looked like a scene from Night of the Comet, where everything was left as if abandoned mid-action - one suspects because it was time for the morning employee pep-rally at the front of the store. As such, though, I noticed several full sheets of price tags that were yet to be separated and hung. Many many Transformers DOTM labels were to be seen, though my wondering eyes looked with disbelief at brand new Tron peg tags! This line just keeps on going - so we'll see what happens next!
Posted by charlie on May 9th 2011, 06:53 AM
Leave Comment

Share
---
No comments have been posted.
---