News Details
Transformers - Dark (Side) of the Moon Arrives
Reports have been coming in from around the country that stores (ahemTARGET) have been blatantly disregarding the 'shelf date' of May 16th that Hasbro set for their new
Dark of the Moon toys
. We saw this line just a few months ago in the showroom at Toy Fair, and now just today I've seen it on the shelves of my very own chronologically-challenged Target store! I picked up an example of each scale of figure, as can you see: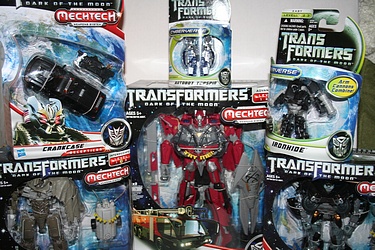 And I did take the time to shoot some package pics and transcribe some bios. Let's kick things off with Sentinel Prime! Click the image of his Leader sized box, which is definitely solid and heavy - more so than this scale from either of the previous 2 movie lines, I'll boldly say! Start checking your local stores too, since I'm sure these are to be found just about everyplace now. Or - wait 6 days and the real date will be here anyway. Seems this line is upon us!
Posted by charlie on May 10th 2011, 02:03 AM
Leave Comment

Share
---
No comments have been posted.
---